Eurocarbon is a producer of tubular and flat braids, woven tapes, and fabrics, primarily used in the composite industry. Since 1994 Eurocarbon has specialised in the overbraiding technique where composite preforms can be produced in an automated way.
These braids, tapes, fabrics and overbraided preforms are made from high-performance reinforcement fibres such as: glass, aramid, and carbon.
It is not always easy to select the suitable fibre type, style of weave/braid, the right resin type, and the correct production method to produce the specific composite product.
The team at Eurocarbon in Sittard, along with Cristex who have been partnered with Eurocarbon for over 10 years, can offer a wealth of experience with selection of fibres, resins, design, and manufacturing methods for composite products.
Eurocarbon and Cristex are both ISO 9001 certified ensuring all requirements for quality management are met.
Eurocarbon also specialise in Overbraiding. This is a technique that is used to produce net shape cost-effective structural preforms. This technique is cost effective, time saving and reproducible. Due to its excellent energy absorption, it is ideal for crash structures.
We have listed a few of the many successes in overbraiding:
Mercedes McLaren SLR Crash cone 1999-2009
Lamborghini Aventador A-pilar and Rocker 2010-2021
BMW i8 A-Pilar (dev), Doorframe and Rocker 2013-2018
BMW 7 Roof beam (between B pillars) 2015-2021
More under NDA
If you would like to learn more about Eurocarbon and the overbraiding process click below: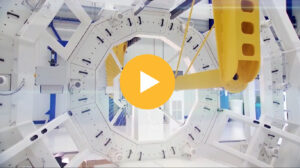 To find out more information about how we can support your project, please email: marketing@cristex.co.uk or give us a call on 01282770666 we would be more than happy to help.